Facility maintenance checklist template format word and excel is the proactive approach to any risk which is linked with your facilities. Let's talk about what is facility? So it is a place, things or any kind of equipment that will helps you in your work for a particular purpose. And maintenance is the repair, service or good keeping of anything. so when combining these it a systematic, scheduled, or managing the things, spaces, infrastructure in such a way that you cannot face any failure from it or it also prevent you from degradation. In this facility maintenance checklist template any organization may keep in track their equipment, assets, machinery, their spaces, guest room etc. for any of this component it is than sub divided into parts of facility, and if they found anything which is not under the mark of noncompliance or not meeting their quality than they track it or maintain it to avoid future failure.
Suppose if they don't take over the facilities they bear the failure and every failure have a cost and eventually the organization have to bear the cost. For maintenance purpose the check list is being prepared by the person who is responsible for any noncompliance. So check list accuracy is mandatory. Keep in view that these checklist are some where make daily, biweekly, weekly.

Download:  FACILITY MAINTENANCE CHECKLIST
Examples of some facility maintenance checklist template format word and excel:
Following are the most common facility maintenance checklist template examples:
Soffits.
Openings, Windows and Skylights.
Roofing.
Lighting.
Plumbing.
Fire Marshall Inspection (Extinguishers, Doors and Crawl Spaces).
Sprinkler System.
HVAC, Heating and Cooling.
Electrical.
Service Company Accessibility (Fire Alarm, Police, Security Cameras, Phones, WiFi, etc.)
Grounds and Irrigation.
Exterior walls etc.
Benefits of using:
Following are benefits of using facility maintenance template:
Proactive approach.
Prevent from failure.
Prevent from high cost.
Efficient and reliable.
Cheap to use.
Better tracking of better performance.
Identify the improvement factors.
Increase the quality.
Increase the performance of facilities.
Process continuity.
How to practice it:
First of all make sure that you are ready to adapt this system, because it needs continuity and following are the factor how to apply it:
Name if inspector.
Date of maintenance.
Maintenance areas.
Parking lot and exterior entrance areas.
Center entry areas.
Rest room.
Verified person signature.
Name of inspector:
For every checklist every company of offices assign a supervisor person often called as inspector, whose work is to ensure that every checklist is under compliance and full filling the requirements of maintenance, if things are not meeting the standard than inspector is responsible for plenty.
Date of Maintenance:
Many firms use this system in twice a week, in some it is perform daily, and somewhere it is perform weekly etc. so date mentioning is important because it refer to tracking.
Maintenance areas:
Every place have different facilities, and each multiple facility require a specific name, the name mentioning is also important. For example guest room, parking area, manufacturing plant, washroom, lights and etc. in it lights , parking slot, flag pole, chairs , air condition etc. should also be maintain. If some improvement is made than it should be written in notes.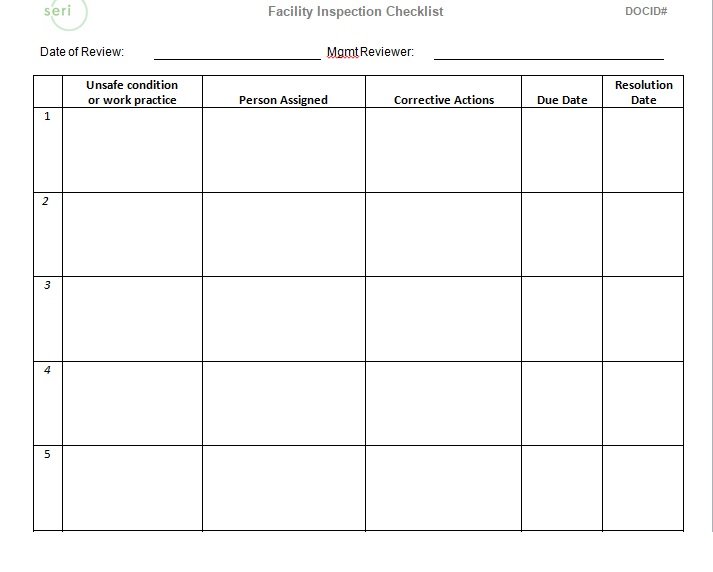 Download:  Facility Maintenance Checklist Template
Verified person signature:
A signature of supervisor is needed after the completion of maintenance of checklist.
In account it is very easy to use facility maintenance checklist template because of its efficient, responsive, and widely global use.